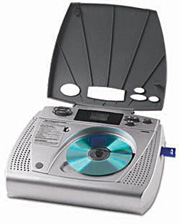 Works with virtually all KSU-less and Multi-line Analog telephones


Includes 2 TEHMA


Plays on hold audio on an regular audio CD, MP3 encoded CD, SD memory card, or on your PC


Select a specific track or play all tracks in memory


Pre-loaded with nearly 3 hours of licensed music and messages


128MB Digital flash memory (173 minutes)


Secure Digital card slot (1GB SD card can add 70 hours)


Drop in a CD with a single track, close the lid, and the unit automatically records the content


USB Connection


6-Line LCD control panel with speaker (displays ID-3 tags)


Wall mountable


MessageStudio Software (allows users to create new on-hold audio content, with voice, and music on their PC with a few mouse clicks)


High sound quality


About the IntelliTouch On Hold Plus OHP 7500 Digital Player
Add on-hold audio capability to ordinary single or multi-line phones...for real! For years, what has been the "Holy Grail" of on-hold audio technology is now an affordable reality for any size business. The OHP-7500 works with virtually all single and multi-line phones, even those that do not use a KSU system, and the new cordless phone systems (requires use of a head set). The OHP-7500 works just like the on-hold audio feature on big, expensive, PBX and KEY phone systems. Just push the HOLD button on any extension and the OHP-7500 grabs the line and plays on-hold audio to it. To release the on-hold condition, just pick up any phone extension. It's that simple. The OHP-7500 provides on-hold audio on one to four lines and on up to 50 different phone extensions.
The IntelliTouch 7500 series can literally handle almost anything you throw at it. Whether you have your on-hold audio on a regular audio CD, SD memory card, or on your PC, this system can do it all. And, like all of our other systems, it's very easy to use! Just drop in an audio or CD, close the lid - the 7500 player spins up the disc and records it into the units built-in 128MB of digital flash memory. Want more time? Simply slide in an SD card (any retail SD card will do). With a 1GB SD card, you can have over 70 hours of audio content. Continuous playback begins immediately. Select a specific track or play all tracks in memory, the choice is up to you. OHP-7500 players come pre-loaded with nearly 3 hours of licensed music and messages, so it's ready for use right out of the box.

The IntelliTouch 7500 series includes our award winning, simple-to-use MessageStudio Software. With MessageStudio you're just a few mouse clicks away from your own, professional sounding, custom on-hold audio presentation. You'll be surprised at just how quick, fun and easy it is to sound like a Fortune 500 company.