Mitel IP 5330 Telephones
Part # 50005804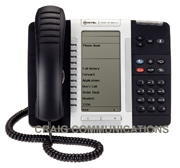 Large graphics reflective Backlit display (160 x 320)


24 programmable, 1-touch multi-function, self-labeling keys, provided in 3 pages of 8 keys each (for speed dialing, line appearances, feature access)


Wideband Audio Support – ships with a wideband handset (7 kHz) standard


HTML Desktop Toolkit included for applications development


Mitel Peripherals and Modules support: Line Interface Module, IP Conference Unit, Wireless LAN Stand, Gigabit Ethernet Stand


12 fixed function keys: Hold, Settings, Message, Speaker, Mute, Transfer / Conference, Redial, Cancel, Volume/Ringing/Contrast Up & Down, Previous Page, Next Page


3 context-sensitive softkeys for intuitive feature access


On-hook dialing


Dedicated headset jack


Handset, Headset & Handsfree Mute support


Call hold (Place / Retrieve)


Call transfer


Do Not Disturb


Call Forward Settings (Multiple)


User-adjustable Ringing warble and pitch


Conference call setup


Voice mail access - large message waiting lamp


Direct page / Group page / Set to Set Paging


Last number redial


Desk and wall mountable


Two position, 35 degree tilting stand for better viewing angle


PC Companion Application: Desktop Programming Tool for easy user programming and key labeling


Dual Mode ready – Supports Mitel IP (MiNET) and SIP protocols


Handsfree speakerphone operation (full duplex)


Dual port IP phone (10/100 Mb integrated Ethernet switch)


Language Support: English, French, German, Italian, Portuguese, Spanish, Dutch


Icon button labeling for global markets


Secure voice communication enabled by encryption.


Embedded Applications include: Launch Application, Open Document, Open URL, Launch PC Companion, Call Forwarding, Conference Unit Controller, Settings, Call Information, Multiple Telephone Features, and Help


Hearing-aid-compatible (HAC) handset (meets American Disabilities Act [ADA] requirements) and HAC compliance for magnetic coupling to approved HAC hearing aids


New 5300 Series Handset (v4)


Supports Mitel Teleworker, Automatic Call Distribution (ACD) agent and supervisor, Hot Desking and Resiliency


Designed for power conservation: reduces power consumption for overall energy savings


Future support of Cordless Module and Cordless Accessories built-in to field replaceable Charging Contacts plate in Handset cradle


Mute and Message Keys with LED illumination for status indication


Settings Key programming for easy access to PBX telephone system features


Off-hook Call Announce and Handsfree Answerback


Multiple powering options: Accepts standards-based (IEEE 802.3af power compliant) power over the LAN via spare pair to signal pair, or supports 48 VDC Ethernet / AC Power wall adapter


Power over Ethernet support for the Line Interface Module and IP Conference Module


Compression support: G.711, G.729


Supports IEEE 802.1p/q for Voice Quality of Service


Unless you have Power over Ethernet, power supply is required for all 5000 Series IP phones. (p/n#50005301)

Click here to order the 48 Volt Power Supply 50005301
About the Mitel IP 5330 Telephones
Part # 50005804
The Mitel 5330 IP Phone is a full-feature enterprise class telephone that provides users with real-time access to applications and services such as web browsing, contact lists, call history logs and many customizable user settings. HTML applications can be developed to run without an external server – providing cost effective, intuitive customization for the user's unique requirements. The 5330 IP Phone is ideal for enterprise employees, and can be used as an ACD agent or supervisor, as well as a teleworker phone.
NOTE: This phone also comes in non- backlit (Part # 50005070) but its the same price. So we do not have that particular model on our website. If you would like the non-backlit/50005070 Model, please call us directly to order it. Thanks!


PLEASE NOTE:

The Mitel IP 5330 is NOT a regular telephone. The Mitel IP 5330 requires a Mitel phone system to operate. Customers are responsible to make sure that the parts ordered are compatible. The best way to make sure you are ordering the right Mitel IP 5330 is to turn the phone over and look on the bottom for the part number. It should have the following located on the bottom of the phone: "Mitel IP 5330 -50005804".

Remember, there is a 20% re-stocking fee which we do not enjoy imposing. So please consult with us regarding the Mitel IP 5330 or any other Mitel phone system component if you are unsure of what your are ordering. Our goal is your total satisfaction and lasting business.


We offer a 1 year warranty on all refurbished phones » details
We may conduct business over the Internet, but our operations are founded on service and commitment to customer satisfaction. Craig Communications maintains an inventory full of quality used refurbished phone equipment. We stand behind every phone, system and component with a ONE YEAR WARRANTY!
PROUDLY SERVING CUSTOMERS
FOR OVER 21 YEARS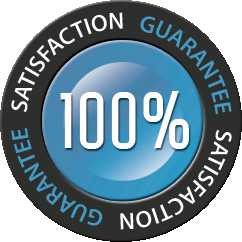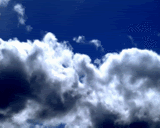 Learn More About
VoIP Phone Hosted Cloud
Solutions for your Business.
More details »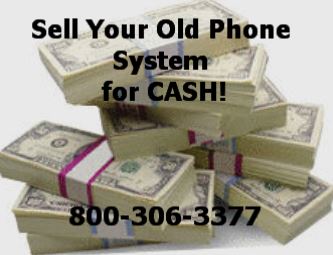 WE BUY Phone Systems!
More details »
Testimonials from our
happy customers »


Dont See What You
Are Looking For?
Click Here »